The Painful Truth About Fighting the Opioid Crisis
As Washington debates the best ways to address the opioid crisis through legislation, nurses are waging the war on opioids every day. They are on the front lines of care, making decisions about how to help people who suffer after a surgical procedure or trauma, those who may have had overdosed, or those struggling to fight their addiction. And their care extends beyond those addicted to their loved ones.
By now, the numbers are well known: every day 90 Americans die due to an opioid overdose and in 2015, 33,000 lives were lost. Those who suffer cross every age group, gender, and socioeconomic class. They're from all walks of life. They're the victims of addiction, but also a shift in attitude that has emerged over the last few decades about pain: that pain is bad and should be totally alleviated when possible and that "no one should have to suffer."
90 Americans die each day
due to an opioid overdose
The goal has been well-intentioned, but since the availability of tablet formulations in the 1990s, the number of opioid prescriptions and the length of time they were prescribed grew. Suddenly, even those undergoing everyday routine procedures like wisdom tooth removals were being prescribed opioids.
But there was an unforeseen consequence to being pain free. When patient's prescriptions ran out, many turned to less costly street drugs like heroin; in fact, 80% of patients who use heroin today used prescription opioids first. Many people can access prescription opioids by using a family member's or friend's medication or buying them on the street. Today 21% to 29% of patients prescribed opioids for chronic pain misuse them and 8% to 12% of these people will develop an opioid use disorder.
Embracing Pain 
For most conditions, pain is an inevitable companion to most types of surgery or acute injuries. In fact, pain is often an indicator that something may be wrong, or it allows a patient to protect an injured site. Pain must be managed – but in most cases, should not be completely eliminated. Reducing pain, not completely alleviating it, should be the end goal. And the battle must be waged from the other end, where it begins: in the causes and management of pain.
RNs Pivotal Role in Curbing Opioid Use
As advocates for the patient, nurses are uniquely positioned to combat the epidemic and play a pivotal role in the prescribing and management of opioids – in large part because no one works more closely with patients coping with pain. They work hands-on with patients; they help families manage their care; and they collaborate with other clinicians across the care team.
Nurses can steer those suffering from drug addiction to available treatment options and community services, but more importantly, they can help prevent the addiction in the first place.
How? Key elements of an integrated nursing strategy not only help prevent overdoses, but also advocate for patients who are at greater risk of addiction.
Assess and manage pain. Nursing is both an art and a science. There is an opportunity to apply both when administering an opioid medication to a patient. Consider: is this the right drug for the right level and right type of pain? Would an alternative drug such as acetaminophen, ibuprofen, gabapentin or something else be more appropriate? 
 
Manage patients' expectations. Using medication reconciliation as an opportunity to educate patients about issues like tolerance, physical dependence, opioid misuse, and drug diversion. and to teach patients how to properly dispose of their used opioid medications. Encourage patients to seek treatment for opioid addiction and help them find those resources, and teach them how to properly dispose of their used opioid medications. 
 
Be informed. Informing patients that sharing a prescription drug with another person is not only a federal crime according to the Controlled Substances Act, but could cause serious harm to a person who is using a medication without medical oversight. 
 
Advocate for relevant policies. Relevant policies might include: expanded access to medication-assisted treatment (MAT) for addiction; interoperability between state-run electronic pharmaceutical databases; drug take-back programs; programs that address the psychosocial needs of those living with chronic pain; and policies regarding the responsible distribution of naloxone (a drug that can reverse opioid effects and prevent death from overdose). 
For nurses on the front lines of the opioid epidemic, it's important for them to understand the most vulnerable populations, stay current on the latest strategies and practices for the appropriate use of opioids, and to be knowledgeable about health policy. Access our Nursing Center and get resources and more information that help advance practice nurses successfully contribute to fight this crisis.
Learning and Research
Educator
Student
Articles
Patient Safety
Nursing
Nurse
RELATED CONTENT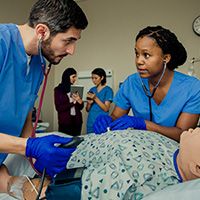 Nurse educators are leading the charge when it comes to adopting new technologies.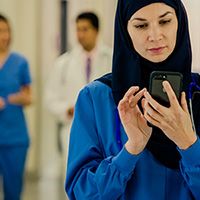 By 2020, global spending on healthcare is projected to reach $8.7 trillion – and closer examination reveals approximately one-fifth of healthcare investments are "wasted" on clinically ineffective care delivery.
<!-container ends here->