Where's the Evidence? Resources at Nurses' Fingertips
The informed clinical instincts of practicing nurses who care for patients can be the difference between life and death. When expertise combines with standardized procedures and ongoing professional development, hospitals can expect better-quality care and better patient outcomes. 
Consider this scenario: A 55-year-old woman arrives at the emergency department with pain in her arms and neck and shortness of breath. At the time of her admission, an assessment that included several diagnostic tests and a 12-lead electrocardiogram (ECG) showed normal ranges. But because the woman was at risk of a cardiac event, she was admitted to the observation unit. Soon afterward, the woman's symptoms worsened.
A nurse practitioner on the unit looked at the previous ECG, observed the patient's clear discomfort, and felt something had been missed. She quickly instructed a staff nurse to repeat the ECG and at the same time consulted an online evidence-based, point-of-care procedural reference on performing a 12-lead ECG, which highlighted chest lead placement.
During a review of the patient's tests, the ward nurse noticed that the chest markers from the ECG done on the patient in the emergency department were not in alignment with proper placement. The ECG was therefore redone and showed the patient was having a heart attack. The nurse practitioner notified the cardiologist, who immediately ordered the patient to the cardiac catheterization laboratory for an intervention that resulted in saving her life.
Let's compare that example with another case at a different hospital. Again, a middle-aged woman arrives at an emergency department with symptoms similar to those in the first example, and after initial assessment, shows nothing abnormal. This time, however, no one picked up on the problem with misplacement of the ECG leads, which led to a different outcome: the patient had to experience a more complicated and prolonged recovery.
So, just how did those two patients with similar symptoms end up with two different courses of care?
Consistency of care is key
The differences between these examples underscore the critical importance of nurse education and knowledge at the point of care. Today, from one large health system to the next there are dramatic differences in the ways nurses practice—across hospitals and even across units. When such care variation exists, hospitals become challenged to meet their quality measures and thereby provide the right level of care in each situation, each time.
To complicate matters, the growing shortage of nurses—as experienced baby boomer nurses start retiring—is having an effect. Hospitals recently reported that the nursing shortage is the worst it's ever been, and the US Bureau of Labor Statistics estimates that by 2024, more than one million registered nurses will be needed to replace the many nurses reaching retirement and to support an aging population.
1 million US registered nurses 
will be needed to replace retiring nurses by 2024
Even though very large numbers of millennials are joining the nursing profession, those large numbers aren't high enough to meet the growing demand, nor do these novice nurses have the years of experience necessary to draw upon in an emergency situation. Consider the example of the nurse practitioner who used experience and intuition—supported by evidence-based, clinical-decision-making tools—to reassess the patient's condition, perform a diagnostic test correctly and initiate the right standard of care.
That quick response and those actions likely saved that patient's life. Having large numbers of young and inexperienced nurses replace seasoned baby boomer nurses does not mitigate concerns over the new nurses' ability to handle themselves in difficult and stressful situations in an emergency department or in other hospital areas where the learning curve is steep.
In addition, large, busy healthcare systems typically struggle with attempts to achieve consistency in care, and maintain standards of care. In an environment in which people are busy and in which procedures, devices and standards are constantly changing, the presence of standardized content—when it comes to current procedures—that can be quickly and easily referenced at the point of care is the best guard against substandard quality care.
Raising the bar on patient care
To ensure the highest levels of skill and competency needed at the right time and in the right place—especially in areas where quick action is paramount—nurses have to have exceptional physical assessment skills as well as standardized point-of-care, clinical-decision support resources to help them quickly find answers to complex healthcare questions when they are interacting and providing care for patients. There must also be consistent ways to implement the tools and educational programs within organizations so as to foster trust in those resources.
Healthcare systems need to invest in the training and education of their nurses with the latest evidence-based tools and resources that support the ways that nurses need and want to learn. That means hospitals and clinical facilities must provide access to various and different learning modalities, or blended learning, in much the same way that academic institutions now approach learning. This changing knowledge paradigm also requires the availability of quick access to need-to-know information bolstered by more-detailed and advanced information as nurses gain experience.
Raising the bars on patient care, standardizing learning, and ongoing competency training is integral to the American Nurses Credentialing Center (ANCC) Magnet Recognition Program, which is the gold standard of nursing excellence. Magnet designation requires hospitals to go through a lengthy and rigorous process so they can demonstrate qualitative and quantitative evidence of quality patient care and positive outcomes. Professional development is an integral part of the Magnet journey.
Novant Health's quest for nursing excellence
Only a small percentage (9.2% as of 2016) of US healthcare organizations have achieved Magnet distinction. One large, integrated health system that spans three states and 15 hospitals, Novant Health—a not-for-profit, integrated health system of 15 acute-care facilities and medical centers throughout North Carolina, Virginia, South Carolina, and Georgia—has achieved and maintained its Magnet designation for many of its hospitals.
That distinction has been achieved based in part on the system's commitment of resources to the updating and monitoring of nursing standards, to demands for consistency across the care continuum, and to the deployment of evidence-based clinical-decision support tools.
The Magnet designation is a milestone for the US health system. In the past, Novant Health's nurses depended on textbooks to look up signs and symptoms and nursing interventions, which resulted in variations in care practice and quality. Today Novant hospitals are using easily accessible, trusted tools that offer both quick reference at the point of care and more in-depth information for quality improvement studies that help nurses with their professional development.
Novant's story underscores the importance and value of resource standardization and investment in tools that give insights into current best practices to support clinical decision making. The future of exceptional nursing practice and optimum patient outcomes lies in consistent professional development, standardized practice and care, and trusted clinical-decision support.
Want to know more about Novant Health's journey?
Quality Manager
Learning and Research
Articles
Lifelong Learning
Health IT
Nurse
Nursing
IS IT MIS
RELATED CONTENT
For nurses on the frontlines of sepsis care, recognizing the symptoms and when to initiate treatment bundles can ultimately save patients' lives.
As the largest segment of the healthcare workforce, nurses play a vital role in reconciling the opioid epidemic through improved clinical care, education, and prevention efforts.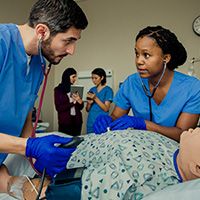 Nurse educators are leading the charge when it comes to adopting new technologies.
<!-container ends here->