Five Trends Affecting Pharmacies
The need for retail pharmacies to transform themselves arises in response to a myriad of economic forces at play that have rewritten the rules of today's current healthcare system.
To remain competitive in providing superior healthcare services amid increasing competition, pharmacies must recognize and respond to certain changes likely to affect their market. Look for the following key trends that will define the market over the coming year and beyond.
Calls for care management and collaboration
Recent changes in the way healthcare is financed—particularly in view of value-based reimbursement models—call for a sharper focus on care management and coordination. In 2018, pharmacies have to embrace collaborations with health professionals so as to improve clinical outcomes, lower costs, and create more value for patients, providers, and payers.
Special attention to specialty drugs
Specialty drugs are in the midst of a tremendous boom, and 2018 is ripe for a sharper focus on integration of medical and pharmacy benefits. With industry revenues shifting from traditional brand-name drugs to specialty drugs, pharmacies must strategically position themselves to handle an increasing number of these expensive products with unique clinical requirements as the products get introduced into the marketplace.
$212 billion the amount specialty drugs
are expected to make up in pharmaceutical revenue by 2020
Aligning with the informed consumer
The rise of the informed consumer has enabled patients to become more engaged in their own personal health—and such patients are more likely to participate in their own medical care via mobile devices, search tools, and wearable technologies. As a result, pharmacies have to embrace health information technologies so they can create new ways of connecting with patients at the same level of digital engagement and convenience. Integrating a pharmacy management system with a patient's electronic-health-record system enables a pharmacy (i) to improve patient safety with fewer errors and mix-ups from written or faxed prescriptions, (ii) to provide higher-quality care for patients, and (iii) to add greater value for patients by actively engaging consumers to improve their health status.
The opioid epidemic: Thinking outside the box
The onslaught of America's opioid epidemic won't be solved by simple prior authorizations or quantity-level limits. On the contrary: the solution is going to require a fundamentally different approach when it comes to pain management and treatment options. In 2018, we're likely to see new collaborations, more-stringent regulations, and emerging pharmacy innovations focused on behavioral health and addiction recovery options. There are also likely to be fundamental changes in the ways pharmaceutical companies deal with the epidemic following the news that Purdue Pharma, the company best known for selling prescription painkiller OxyContin, would terminate opioid-related promotion to physicians and prescribers.
Mergers and acquisitions with ripple effects
With CVS set to acquire Aetna in a whopping $69-billion megamerger and with Walgreens having transferred 1,900 Rite Aid stores, these high-stakes deals are poised to disrupt the US pharmacy ecosystem. While Amazon is shelving its plans to enter the pharmaceutical sales and shipping business, the two major mergers under way are expected to affect the ways US corporations buy health coverage for employees. For many, the changes raise fresh concerns about the costs and accessibility of those benefits. The deal comes at a crucial time—when healthcare payers and pharmacies are trying to cope with rising drug prices and the persistent threat of competition from online retailers in Amazon's wake. 
    
Interested in learning more about what's on the horizon for the US pharmacy industry? 
Articles
Health IT
Patient Safety
Patient Engagement
Interoperability
Pharmacist
Advanced Clinical Decision Support
RELATED CONTENT
As the largest segment of the healthcare workforce, nurses play a vital role in reconciling the opioid epidemic through improved clinical care, education, and prevention efforts.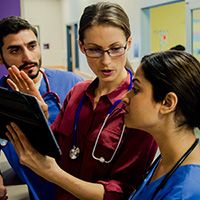 Not too long ago, skeptics claimed predictive analytics was more buzzword du jour than a powerful strategy that could harness learnings for the advancement of clinical decision making.
<!-container ends here->