Fighting Sepsis Takes a Village
For Gregory, the signs of sepsis were there. He just didn't know it. He'd had a fever on and off for a few days, but when his temperature spiked to 104 degrees, he landed in the emergency room

Gregory didn't realize just how serious his condition was until an army of nurses rushed into his room when an alert triggered the fact that he was going into septic shock. The intervention in Gregory's case was successful, and although his sepsis recovery was a long one, he luckily didn't end up as a statistic.
The nurses and physicians who treated Gregory know the statistics all too well: Death from sepsis kills more people than AIDS, breast cancer, and prostate cancer combined. In fact, sepsis is the deadliest condition treated in critical care units. And chances of sepsis increase among older people, children, and people with low immunity.
So, why is sepsis such a major killer? For starters, sepsis may be difficult to detect. An infection may brew in the system slowly. As a result, manifestations of sepsis that develop insidiously may not be initially recognized by the care team, resulting in a delay in diagnosis and a delay in treatment.
Depending on where the sepsis infection is, it can advance quickly—in a matter of hours. And there is urgency because the care team must start treatment rapidly, such as with intravenous fluids and early administration of antibiotics. If the team is late by more than, say, even three to four hours, it could mean higher comorbidities or more complications for the patient. That's why it's crucial that sepsis be identified early and that as soon as it is identified, that it get addressed with the right treatment.
While few clinicians would argue that speed is crucial when sepsis is diagnosed, there's still wide debate on the definition of sepsis itself. For the patient, it could be a matter of life or death. For the hospital, there are a set of reporting requirements established by the Centers for Medicare & Medicaid Services (CMS). The CMS sepsis management bundle, known as the SEP-1 measure, requires documentation and reporting of the organization's sepsis bundle compliance. That recommended bundle stipulates that treatment begin within hours. Whether or not the hospital follows the bundle—and how quickly it does so—can have deep impact on patient outcomes and, ultimately, the overall cost to treat sepsis.
For a hospital, it's a tricky balancing act because failure to accurately diagnose not only affects patient care but can have a negative impact on hospital revenue tied to reimbursements. Yet over reporting, too, can be a problem. Today many hospitals rely on alerting systems built within EHRs. Those systems typically capture nearly all possible sepsis cases, but they're also imprecise, generating an inordinate number of false-positives. And high volumes of false-positives can lead to alert fatigue. According to studies, 49 to 96% of alerts get overridden because of alert fatigue, a condition triggered by too many alerts that are irrelevant, not serious, or continually repeated. For patients who do have sepsis, clinician alert fatigue poses a dangerous patient safety hazard. Conversely, by including a patient in a bundle who doesn't have sepsis, hospitals risk skewing their performance.
With many hospitals still evolving their protocols, there is now the added complication of sepsis performance data going public on the CMS portal Hospital Compare, starting in July 2018. CMS created this reporting score card in order to advance transparency around the high death rate and cost of sepsis. And nothing sheds more light on that reality than those performance measures' becoming easily accessible to the public. 
Unite Healthcare Teams in the Fight against Sepsis
Because of the complications in diagnosing and treating sepsis, hospitals must implement multidisciplinary approaches to tackle it—approaches that bring together a hospital's clinical, technical, and quality staff. These efforts must engage patients and their families, ensure consistent standards of care, and rely on the most-sophisticated tools to help guide decision making and empower care teams.
Following are three areas of focus for any hospital implementing an integrated sepsis program.
Ensure patients are educated about the signs of sepsis. Had Gregory known the signs of sepsis, he might have headed to the ER sooner. In fact, when patients understand the importance of watching for signs and symptoms of a potentially deadly condition like sepsis, they can play a key role in accelerating their own care and actually change the outcome. There are now a number of innovative methods to educate and engage patients and consumers on health-related conditions so they can learn about the potential risks of a condition or procedure.
Standardize practices among healthcare professionals.

All members of the interdisciplinary care team must possess the skills necessary to recognize and treat early signs of sepsis by following the latest evidence-based practice guidelines that inform patient care and interventions. Because nurses are often on the front lines of care, they have the ability to close the knowledge gap and improve outcomes (1) by screening patients for signs of sepsis, having quick access at the bedside to the latest diagnosis and treatment guidelines and (2) by monitoring patients' responses to treatment.
Leverage tools and evidence to help detect sepsis sooner.

The very foundation of sepsis treatment is an effective system that promotes early—and accurate—intervention. The system should offer highly accurate, patient-specific, actionable alerts built on the latest evidence. A system must also use innovative approaches to quickly get crucial patient data right into the hands of nurses via mobile devices like smartphones and personal communication badges. Getting alerts directly to the nurse at the point of care accelerates the diagnosis of sepsis and the timely delivery of patient-specific guidance.
Knowing—and Doing
For Gregory and patients like him, survival from sepsis depends on both a unified effort and a shared commitment by hospital leadership and nurses and physicians, with all of them working together to ensure consistent, evidence-based care.
Learn more about CMS public reporting of sepsis performance.
Quality Manager
Articles
Health IT
Patient Safety
Nurse
Physician
Nursing
Patient Engagement
Executive
IS IT MIS
Clinical Surveillance
RELATED CONTENT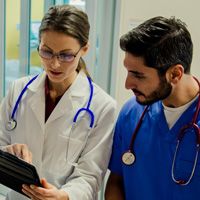 Healthcare associated infections have posed one of the most prominent global health challenges to the worldwide medical industry in many years.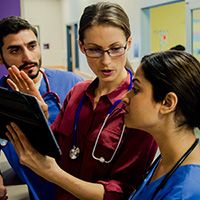 Not too long ago, skeptics claimed predictive analytics was more buzzword du jour than a powerful strategy that could harness learnings for the advancement of clinical decision making.
<!-container ends here->